SOLD! Horse for Sale
5 year old,16.2 h Clyde-Thoroughbred mare
Attractive, pretty horse, 3 good gaits,
Training first level dressage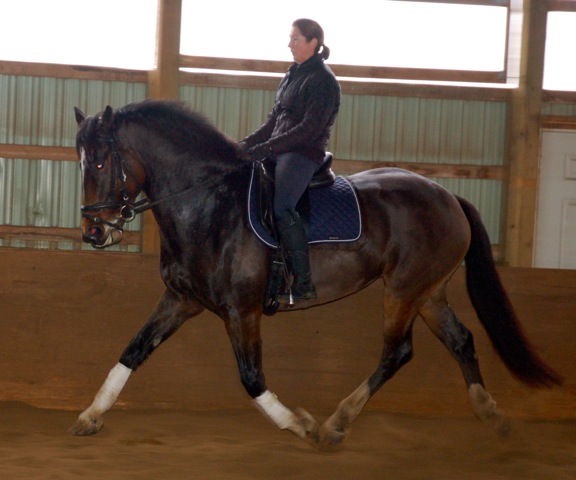 SOLD! Horse for Sale
Very attractive, 8 yr. old black 16.3 hh cross breed gelding.
3 good gaits, training first level dressage.
Kind temperament and smooth to ride.
See Alejandro on youtube:
http://www.youtube.com/watch?v=NsWetBgl0ts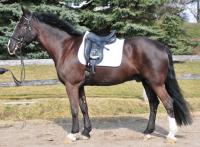 SOLD! Karina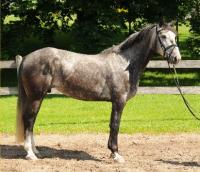 5 yr. old Grey Hanoverian Cross  Mare, 15.2 h.
Great temperament, schooling 1st level.
Shown successfully at 2010 Palgrave August Gold Show with scores up to 68% at training level
SOLD! Versace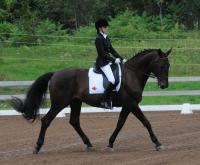 14 yr old, black Han/Trak. gelding
Training 3rd level.
Shown successfully by jr. rider
SOLD! VIVA
FEI Junior Horse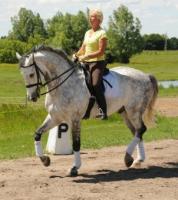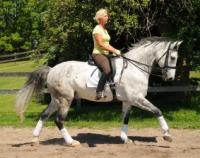 Viva in Spring 2010
For video see link:
http://www.youtube.com/user/utebusse
"Viva's Capitol " is an 9 yr old, 17 h Hanovarian gelding by Viva Voltaire out of a Capitol II mare.
He has shown successfully at the FEI Jr. level in 2009
SOLD! De Lux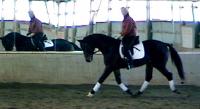 De Lux, 16 h, 2005 American Warmblood Society registered bay gelding.
De Lux shows exellent  ride ability, has a very good character , combined with a quiet temperament and 3 very good gaits.
He will make a wonderful amateur horse , but has the quality to get anybody high scores in the show ring. He is eager to please and has no vices.
SOLD! Tessa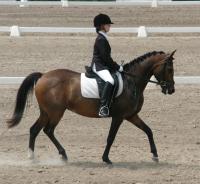 10 yr old 14.2 h bay pony mare, shown successfully at basic dressage.
Tessa has a lovely disposition and is a reliable pony for any junior rider
SOLD! 3/4 Dutch WB Pinto Mare
3 year old, 3/4 Dutch WB Pinto Mare by "Tico's Sun" out of an " ART DECO" mare
"Zara" is 15.3 h tall, has a lovely quiet temperament, 3 good gaits and excellent ride ability
She handles well on the ground, stands patiently in the cross ties and does not spook.
SOLD! Querida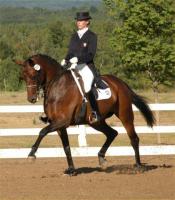 10 year old 16.1h bay Oldenburg mare by Quattro B out of Roxana by Romancier.
Querida is a mare of exceptional quality. She has 3 very good gaits, and
is expressive and extremely elegant. She is talented and athletic and does not require any strength to ride. Querida is currently showing PSG with scores in the mid 60s.
SOLD! Roxy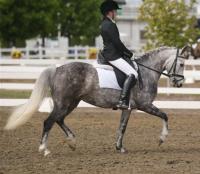 7 year old 13.3h FEI Pony mare.
Successfully shown with scores up to 69.44%. Excellent mover, no vices.
2009  Cornerstone Spring Into Ontario Dressage FEI Pony Champion
2008  Reserve Champion FEI Pony-  Ontario Dressage Championships
2008 Dressage Canada Silver Medal – Horse Acheivement Award ( Level 2)
2007 Cadora National High Point Award – Training Level
2007 Dressage Canada Bronze Medal – Horse Acheivement Award
Sadly outgrown, must sell
SOLD! Oke Doke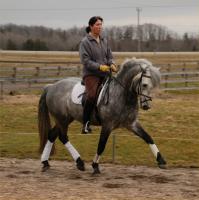 6 year old, 14.1 h Connemara gelding. Excellent rideability, kind temperament. Schooling FEI Pony.